Automotive Pay Per Click (PPC) Advertising technically describes any digital advertising where advertisers pay for every ad click.
However, PPC advertising is often the generic term used to refer to the more specific, "search engine marketing".
The most common example of PPC search engine marketing (SEM) are search ads that show on Google or Bing.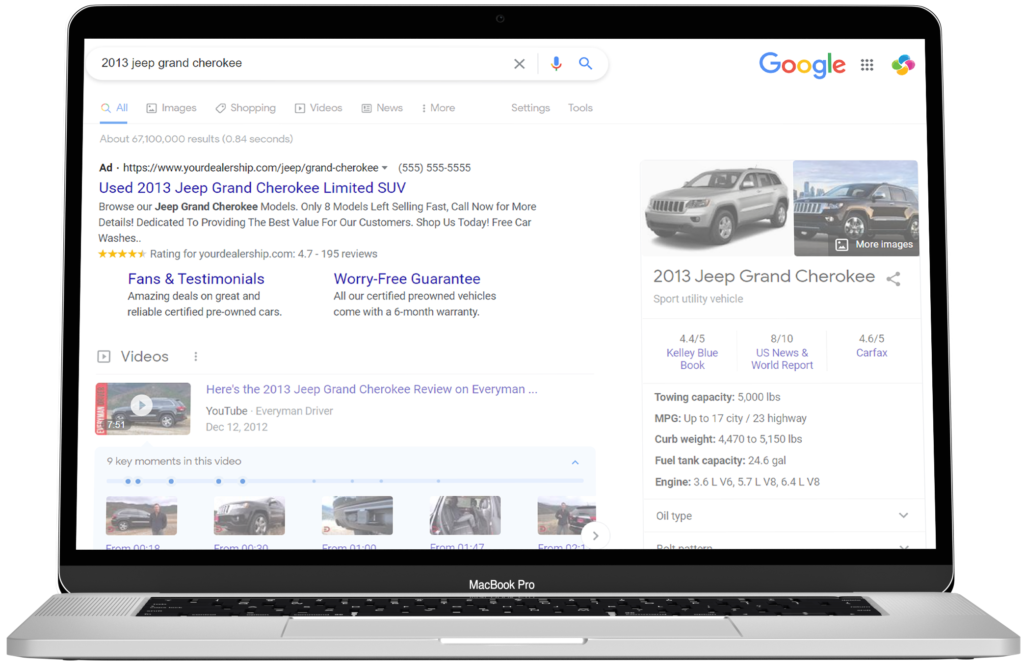 But today, platforms like Google Ads have evolved to help your dealership even more.
Your dealership can use search engine PPC advertising to:
Automatically advertise vehicle inventory to people searching for it in your local market
Dynamically build ads from your inventory that match the searcher's intent
Drive high quality, low funnel website traffic to your VDPs
Retarget interested buyers with display ads across the 2+ billion websites in the Google Display Network (i.e. weather.com)
Drive foot traffic with local campaigns
Repurpose video advertising on YouTube
In short, this type of advertising is one of the most versatile and effective ways to market your dealership online.
Major Search Engines & Ad Platforms
According to data from Statista.com, as of April 2021, this is the breakdown in search engine market share:
Google unsurprisingly is the most-used search engine in the United States, accounting for approximately 60% of all search engine queries

Microsoft Advertising Network represents a respectable 25% of all search engine queries. When you run ads with Microsoft Advertising, you're advertising on several popular search engines (i.e. Bing, MSN, Duck Duck Go)

Other search engines such as Verizon Media (Yahoo), Ask Network (Ask.com), and AOL Inc. account for the remainder of searches
With these stats in mind, Google Ads is where we recommend car dealerships get started with search engine marketing. This is simply where the majority of shoppers will be searching.
Plus, Google has amazing data on in-market shoppers that advertisers can utilize to actively target consumers who are in-market for a vehicle (used or new).
Note: Once you perfect your strategy on Google you can expand your search marketing with Microsoft. Microsoft Ads ad platform is nearly identical to Google Ads. You can even import your Google Ads campaigns with minimal effort.
Automotive SEO VS Automotive PPC
There are many 3-letter acronyms in the marketing world that make it hard to keep up with the terminology.
For example, you may be wondering how SEO (Search Engine Optimization) is different from PPC (Pay Per Click) search engine marketing.
In short, SEO is all about creating content that will show up organically in search results. Meanwhile, PPC is about paying to show up for certain keywords.
Most generic vehicle model searches (i.e. Honda Civic) will be extremely competitive to rank organically. It is nearly impossible for the average dealership to show up on even the first page of Google. The first three spots would be even more difficult.
Generic car model search terms are almost always owned in search engine results by:
Manufacturers of the vehicles (i.e. Honda, Ford, BMW, Tesla, etc.)
Review & Description sites ( Car and Driver, Motor Trend, Wikipedia)
Third-party price comparison tools (Cars.com, Carmax)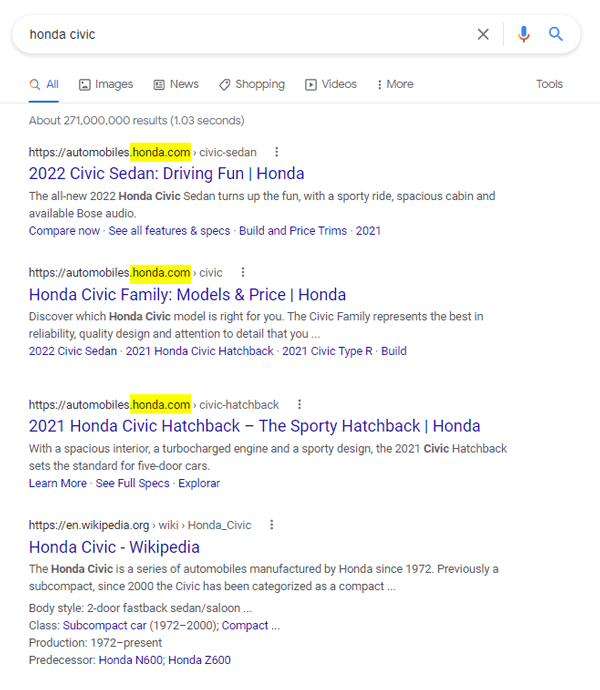 How Long Does SEO Take to Success vs PPC?
Traditional SEO is a very slow-growth strategy. It can take months or even years for SEO efforts to pay off.
Note: For the majority of dealerships, Local SEO and Reputation Management is where efforts on SEO should be focused. Especially if you're just getting started with SEO. This is where you'll get the most ROI on your time/money investment.
With PPC advertising the average dealership can compete much more easily than with organic SEO. Plus, the results are nearly instant.
This is because, despite the fact that it requires a budget to advertise, relevancy is still an important factor in paid search marketing.
Google takes into account how relevant your ads are to shoppers. Since most shoppers are looking for local dealers to buy from, they are more likely to click on a local dealer's ad they recognize versus a major manufacturer when they're ready to buy.
Also, if you're advertising your specific in-stock models, you'll be targeting longer-tail keywords which are generally less competitive (and often less expensive) to rank for.
Types of Search Engine PPC Ads
When most people think about advertising on Google they think of the text ads that show up on search results.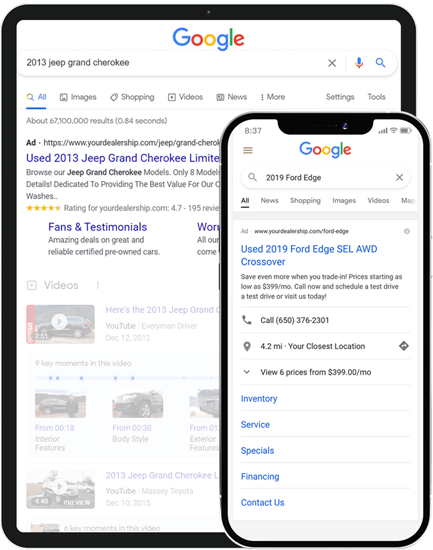 While this is the most common way to use Google Ads to advertise to consumers, it is only one of many different types of campaigns your dealership can run.
Here are a few of the most valuable Google Ads campaign types for dealerships:
Search Ads for Low-Funnel Traffic
The bread and butter of Google Ads. Search ads are ads that display when someone searches with a specific keyword that triggers an ad. There are normally 3-4 search ads displayed at the top of the search engine results page or SERP.
With automotive, this is often a car model. But, can also be more generic terms like "used cars near me," or "Honda dealers near me."
Note that as a general rule, the more generic a search term is:
The more expensive the term will be per click
Or, the less likely you will be to get low-funnel leads from targeting the term
At AutoSweet, we run dynamic search ads connected to our clients' inventory feeds. This produces always up-to-date inventory ads that link to relevant VDPs.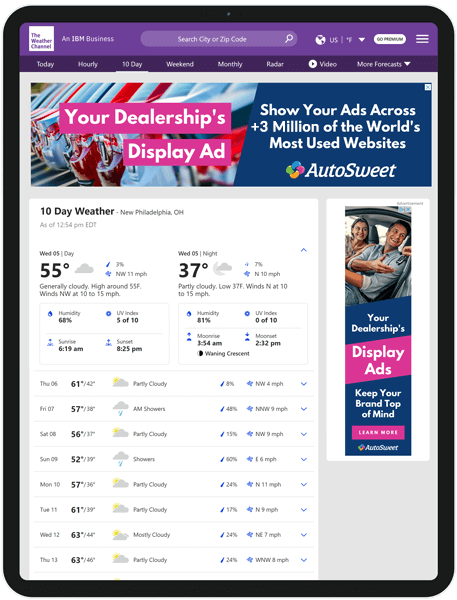 Display Ads for Targeting In-Market Audiences & Retargeting Interested Shoppers
Display ads can show up on any one of 2+ billion websites that are part of the Google Network.
Most businesses use display ads to retarget people who have been to their website before. You can also show display ads to in-market shoppers…
For example, if you're a Ford franchise, or happen to carry a large inventory of used Ford vehicles, you could use Audience targeting to show a display ad linking to all of your Ford inventory.
You can get even more granular than this by mixing and matching demographics. The possibilities are nearly endless.
Local Campaign Ads for Dealership Locations
For dealerships looking to increase foot traffic, local campaigns are a great option. While we love local SEO and getting ranked organically for local searches, sometimes the competition is fierce. Local campaigns can give your dealership an edge.
Paying to show up on local searches and on map searches will help dealers overcome the competition and drive more people to visit brick and mortar locations in person.
Google utilizes machine learning to maximize store visits, call clicks, and/or direction clicks to your dealership location(s).
Video Ads for Promoting Your Brand
If your dealership happens to create video ads for TV or online, consider running these same ads to YouTube watchers in your local area.
This type of campaign works similarly to old-school local TV commercial campaigns – but at a fraction of the cost.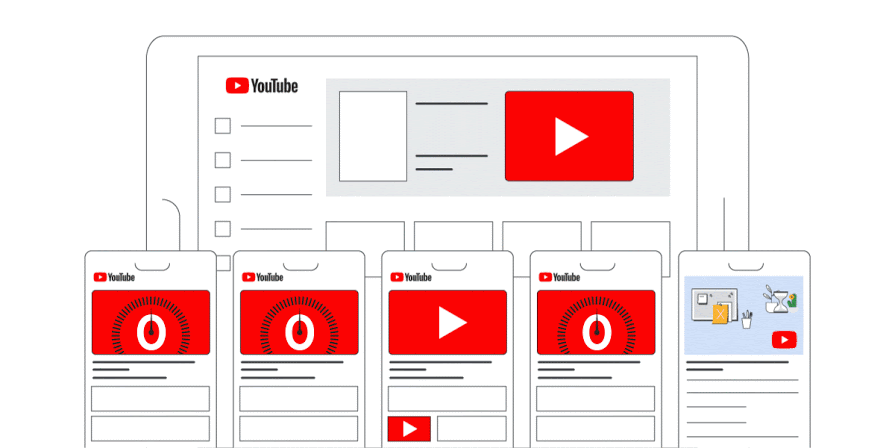 It's a great way to get your dealership's name out there and there are a variety of options for how and where your video ads play.
How Should Dealerships Start With Google Ads?
If you're brand new to PPC search engine marketing, start small and focus on what Google Ads started with… search ads. Ideally, you'll work with a partner that can automatically advertise your inventory.

If that's not possible, and you need to set up campaigns manually, here are a few tips:
Choose long-tail (more-specific) keywords first. This will help prevent you from wasting your budget.
Set your advertising area to the general location of your dealership(s)
Always link to VDPs when advertising for specific vehicles. People want to see the product advertised, not your homepage.
Keep budgets low as you begin and continuosly monitor your campaigns
Check search terms to make sure you're only showing up for the keywords you want. Add negative keywords to your campaign to prevent paying for keywords you're not intersted in.
Remember, Google makes it easy to start a campaign and bid on keywords. Unfortunately, this can cost you a lot of money if you don't bid correctly and choose too vague of keywords.
If your dealership is new to paid search, it's often better to work with an expert. This will get the most ROI out of your Google Ads investment. An automotive paid search agency can also automate your inventory ads so they are always up-to-date and relevant to users.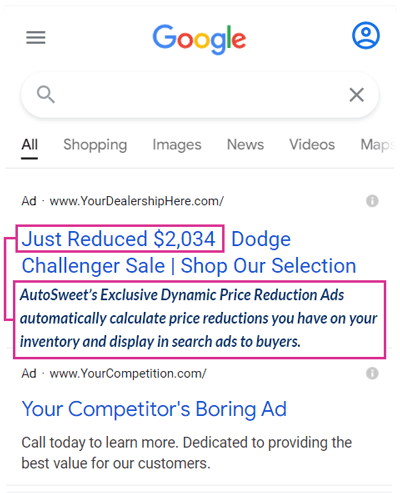 Working With an Automotive Paid Search Agency
AutoSweet specializes in optimizing Google Ads for car dealerships and is a Google Partner. 
We have designed a program designed to take your dealership's Google Ads to the next level, while also focusing on low-funnel and high-quality traffic that converts.
AutoSweet starts by helping dealers own the top of the page for quality searches with Dynamic Search Ads that link to the dealer's relevant VDPs. This shows buyers exactly what they're looking for.

Next, we utilize branded display ads to retarget your previous shoppers. These ads show across the 2+ billion websites that are a part of the Google Display Network (i.e. Weather.com, CNN). This keeps your dealership top-of-mind as shoppers consider their options.

Additionally, this traffic is also useful for retargeting campaigns on other platforms. For example, first-party data can retarget previous shoppers with specific vehicle ads on other channels like Facebook and Instagram.
How Much Do You Need to Spend to See Results with PPC?
The amount of money you need to spend varies depending on the size of your inventory.
In general, we tell our clients to see success from your Google Ads campaigns you need to invest at least $500 a month in ad spend. Contact AutoSweet today if you're interested in a FREE personalized Google Ads consultation and strategy!