Earlier this week, Facebook hit dealerships with the news most in the automotive industry knew was coming…
Inventory partner catalog distribution is being discontinued on Facebook Marketplace effective September 13, 2021.
What exactly does this mean?
Don't Panic:
In short, after September 13, your inventory will no longer automatically be uploaded to Marketplace from approved inventory providers like AutoSweet, CarFax, Cars.com & Edmunds.
This means catalog feeds will no longer organically show up in Marketplace feeds, search results, or the vehicle category.
The ability to list vehicles one by one manually will remain unchanged.
Are Vehicle Catalog Feeds Going Away?
No. Catalog feeds will continue to be active and can be used in a variety of ways with other existing and new Facebook products including the "vehicles" tab on a dealership's Facebook page, "manage inventory" tab, and automotive inventory ads (AIA).
How this is Positive for Forward-Thinking Dealerships
When this change takes place in a few months, many dealerships will hesitate to capitalize on the lack of competition on Marketplace.
The same thing happened when Craigslist implemented their pay-per-post model a few years ago. Many dealerships left the platform and the few dealerships that stayed capitalized on a less competitive platform.
Slowly, Craigslist began to attract dealerships back when they realized they were missing out on sales.
What should you do now?
#1 Consider Running Automotive Inventory Ads
Dealerships who are paying attention now can profit from a less competitive automotive Marketplace by implementing and perfecting Automotive Inventory Ads (AIA) today.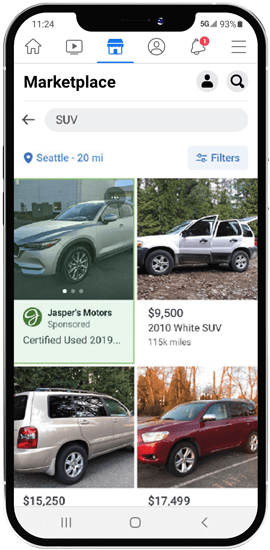 Automotive Inventory Ads using the catalog feed will continue to be available on Facebook Marketplace where you can choose between sending traffic to your vehicle's VDP or the newly introduced On-facebook destination format, a mobile-optimized shopping experience on the Facebook platform.
Imagine being one of ten local dealerships using Facebook Marketplace currently to gain vehicle leads…
Now, imagine being the only dealership out of the ten that decides to run Automotive Inventory Ads inside Marketplace still, to keep your Facebook Message Leads rolling. You're able to dominate your local Facebook Marketplace automotive market.
Dealerships should begin experimenting with Automotive Inventory Ads (AIA) now. It will give the dealership a jump start on AIA strategy so that they can hit the ground running when September 13 rolls around.
#2 Ensure Your Vehicles Tab is Set Up on Your Dealership's Facebook Business Page
The vehicles tab is a feature of automotive business pages that dealerships can use to organically showcase their inventory to visitors of their Facebook page. This can also help drive additional leads at no cost to the dealership, inside Facebook.
AutoSweet auto-populates this tab for all of our partner dealerships who run Facebook Ads with us.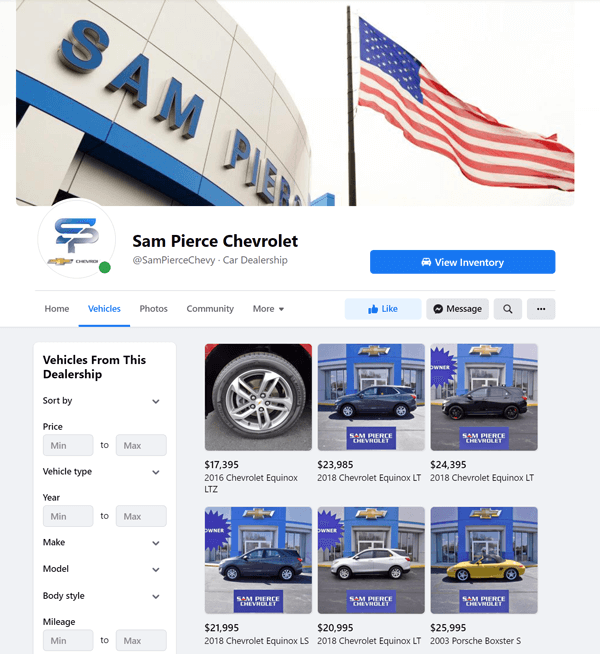 Dealers can also create and manage their inventory via the "manage inventory" tab.
Still, Confused? Reach Out for a Free Marketplace Strategy Session
Here at AutoSweet, we get it, all of these changes get confusing fast. That's why we're here!
As a Facebook Marketing partner and Facebook Inventory Partner, we're able to work directly with Facebook to make this transition as smooth as possible for our partner dealerships.
We're happy to set up a quick call with any dealership to explain how these changes might impact your business.
Call (614) 908-2818 or email [email protected] to set up a quick Marketplace strategy session.