Note: This article isn't your typical automotive marketing post with a few tips that won't do much in the long-term for your dealership. This is a deep dive into the car dealership digital marketing strategies AutoSweet has seen work for thousands of dealerships across the United States.
We recommend bookmarking this article and coming back to it when you have time to dig deep into the material or even better, download the ebook. It contains a bonus chapter on how to properly follow-up with leads and increase your sales conversions.

What's Inside the Car Dealership Digital Marketing Ultimate Playbook?
Click the links below if you'd like to skip to a specific section of this post:
What Exactly is Car Dealership Digital Marketing?
To be honest, that's a pretty loaded question. As you might imagine, digital marketing encompasses a lot. And, it's only getting more complicated…
Digital marketing includes everything from being found in online search results, to a dealership's website, to ads running on multiple platforms, to targeting new customers, and running emails that re-engage past customers. Not to mention tracking all of these leads so the dealership's sales team can follow up properly.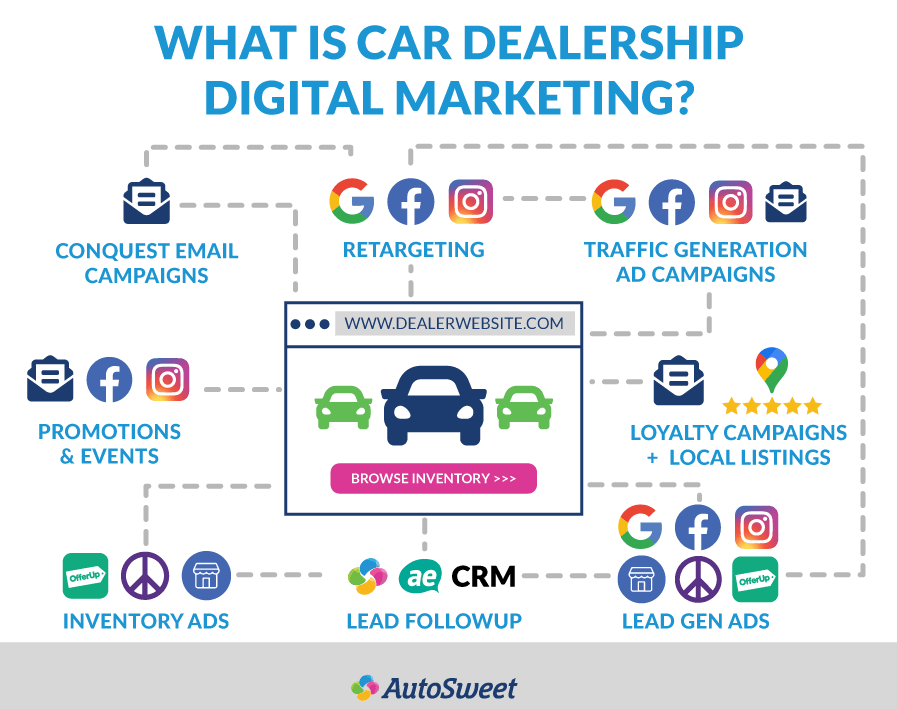 There is a lot to consider, but at the end of the day, digital marketing is the most powerful way to get traffic, leads, sales, and a great ROI for your dealership.
This step-by-step playbook will break down everything dealers should be doing from a digital marketing perspective and will include how to:
Follow digital marketing budget best practices
Create ads that convert
Encourage new customers to leave great reviews that help promote your dealership brand
So, How Can Dealerships Start Building Their Digital Marketing Strategy?
The first thing is to understand the basic marketing funnel and how it relates to your future customers…
In the automotive industry, there are three basic phases your potential customers are in Awareness, Consideration, Purchase.
There is also a fourth phase to consider after Purchase, Loyalty, which will help turn your customers into brand advocates (more on this later)…
As a dealership, your goal is to use digital marketing tactics to push these customers through the funnel until they reach the Purchase phase. Then continue to stay on good terms with the customer through loyalty campaigns.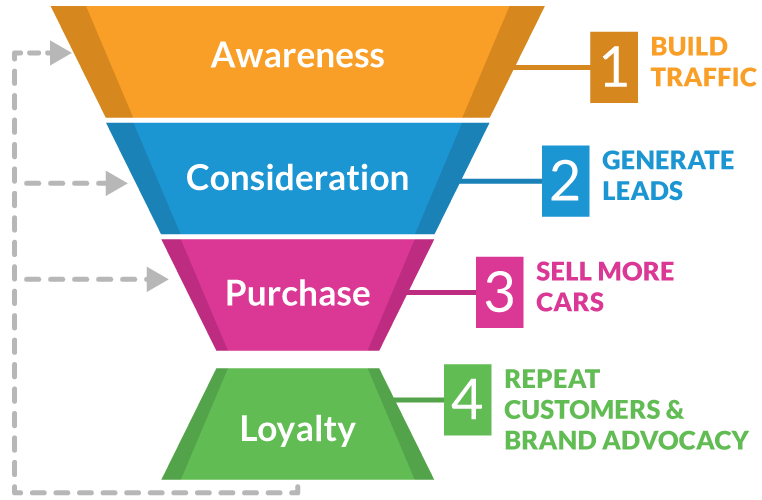 With that in mind, let's go through how the digital marketing funnel for car dealerships works…
Awareness Phase
This is all about either driving people to consider purchasing a vehicle, or targeting in-market shoppers at the beginning of their vehicle search who may be putting off purchase, or are unsure if they can afford it. The goal of this phase is to identify these prospects and introduce them to your dealership brand.
The good news is, with digital marketing, a lot of the work can be automated and tracked so you know how successful your marketing efforts are. This is a lot better than the old days of radio ads, direct mailers, and newspaper ads. Now you can determine the ROI of your different marketing campaigns.

Prospects in this stage may decide to visit your dealership location (especially if you're running event ads). But, in most cases, you'll need to use digital marketing tactics to retarget them as they visit other sites across the web so they don't forget about you and move on to another dealership.
Examples of Awareness Behaviors:
Clicking a picture of a car that catches your attention on social media or a site you regularly visit (i.e.ESPN or Weather.com)
Searching Google for best family vehicles
Attending a special event at a dealership
Consideration Phase
Now that you have their attention, this step is all about getting someone to visit your dealership or fill out a lead form on your website (or ads) so a salesperson can follow up with additional details.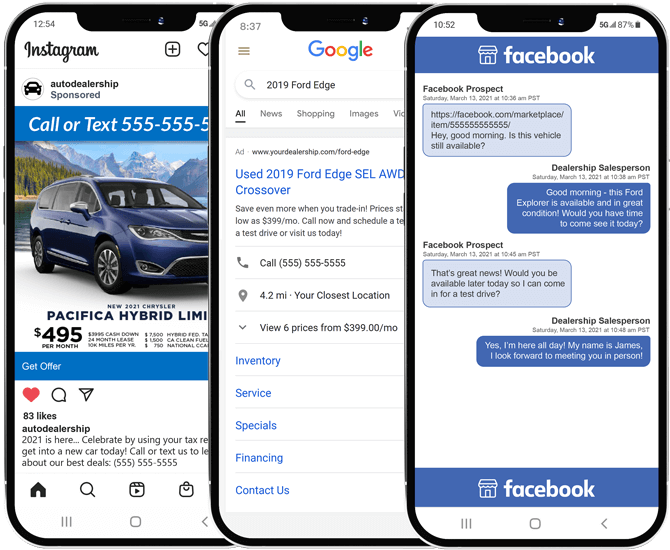 Examples of Consideration Behaviors:
Clicking a specific vehicle ad on social media or Google to learn more
Filling out a lead form on social media sites, classified sites, or your website
Comparing similar models (i.e. Toyota RAV4 vs Honda CR-V)

Purchase Phase
Once your prospect has decided on a vehicle to buy and is planning to visit your dealership, all is not done.

Savvy buyers now have more information than ever at their fingertips and will likely do vehicle price comparisons and look at online reviews of your dealership before purchasing.
This is why it's so important to ensure every shopper has a positive experience at your dealership and come up with a consistent way to ask happy customers for reviews.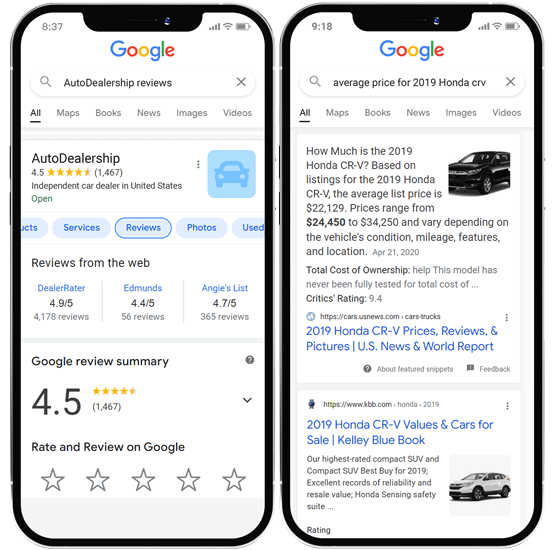 Examples of Purchase Behaviors:
Searching dealerships online for reviews and testimonials
Checking Kelly Blue Book (KBB), TrueCar.com, and other sites for average sales prices to make sure getting a good deal before purchasing
Loyalty Phase
You may think once someone has made a purchase you're done. But wait, there's more!

Ideally, you'll get a great review from your happy new customer, and continue to have a positive relationship with them over the years as they need new vehicles.
And, keep in mind as your new customer drives around their new vehicle, family and friends will be asking them about it. They're much more likely to recommend your dealership to friends and family when they have a positive experience.
Building loyalty with customers will multiply the success of your digital marketing efforts and turn customers into advocates of your dealership.
Examples of Loyalty Behaviors:
Online: Leaving a 5-star review for a dealership on review sites such as Google, Facebook, Yelp, Cars.com
Word of Mouth: Verbally recommending a dealership to a coworker looking for a new vehicle
Repeat Business: Purchasing another vehicle from the same dealership after having a positive experience during a previous vehicle purchase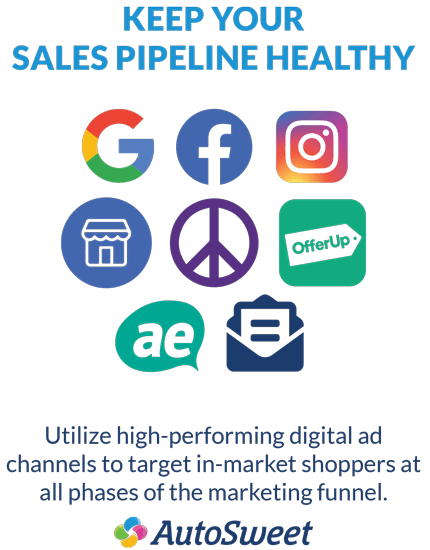 Ok, so now that you know how the digital marketing process works – how do you get it to work for you?
Well, ideally you'll be targeting prospects at all stages of the marketing funnel. Yes, prospects closer to the bottom of the funnel are more likely to buy.
But, it's always a good idea to diversify your marketing funnel and not put all of your eggs in one basket. This will keep your sales pipeline healthy and will build better brand recall and loyalty with prospects.
To do this, you'll rely on a variety of channels to advertise to in-market car shoppers…
Best Digital Marketing Channels for Dealership Success
There are an endless number of channels and platforms you can use to advertise with on the Internet. There will never be a shortage of advertising platforms willing to take your money.
It's easy to become overwhelmed and not know where to begin, even as an experienced marketer.
Lucky for you, you found this guide!
AutoSweet has helped thousands of dealerships over the past 15 years perfect their digital marketing efforts. Over the years, we've experimented with various channels and strategies – and we make sure they work before recommending them to dealerships.
With that in mind, these are the proven channels AutoSweet recommends and what just about every successful dealership uses to advertise their vehicles online:
Facebook & Instagram
Facebook and Instagram have Automotive Inventory Ads (Facebook ads for car dealers) that were specifically created to target in-market shoppers at just about every stage of the marketing funnel.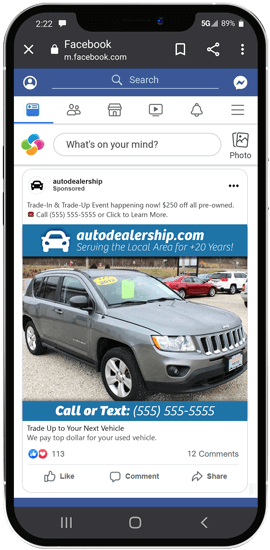 The most successful dealerships use Facebook and Instagram to:
Tell shoppers why they should buy from your dealership. This is a great awareness (top-of-funnel) branding opportunity
Generate buzz around sales promotions, events and online contests
Generate leads with lead form ads right within Facebook and Instagram (middle-of-funnel)
Advertise current inventory and get potential buyers excited about a specific vehicle and send them to your Vehicle Description Pages (VDPs)
Bring back interested shoppers with VIN specific retargeting ads (bottom-of-funnel)
Conquest in-market shoppers using look-a-like audiences from your Dealer Management System (DMS). Matching your 1st party data (customers) with Facebook's users is one of the most powerful tools you can utilize on this platform.
Drive leads and sales with On-Facebook Destination for Automotive Inventory Ads
Google Ads
Google search ads are becoming more powerful than ever for dealerships, especially with their Dynamic Search Ads. This is a game-changer for automotive PPC advertising with paid search.
Dynamic Search Ads are the easiest way to find customers searching on Google for the precise vehicles you offer.
You can use these ads to automatically advertise your in-stock vehicles and generate traffic to the VDPs customers are interested in. This is a great way to target shoppers who are in the consideration and purchase phase of the marketing funnel.
To do this, you need to specify a list of the vehicle description pages on your website and submit them to Google. Google will use this data to automatically create ads that link back to the appropriate pages.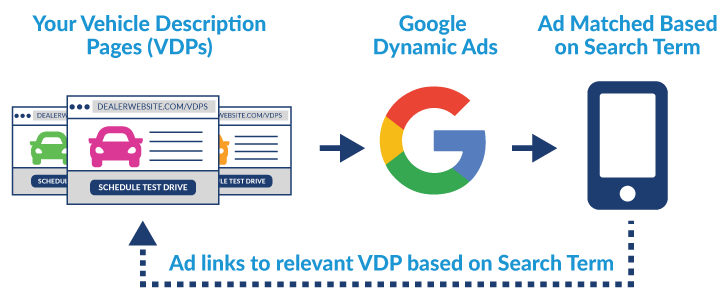 For example, if you have a 2019 Ford Edge in stock on your website, and someone searches on Google using the keyword "2019 Ford Edge," Google will automatically use the data you provided to serve up an ad that links to this page on your website.
And, once someone visits your website, you can continue to retarget that shopper and stay top of mind across more than two billion websites that are part of the Google Display Network.
Craigslist, Facebook Marketplace, and OfferUp
Online classified sites are one of the oldest ways dealerships have driven sales of their used inventory using the Internet. These ad platforms mimic the old-school classified section of newspapers.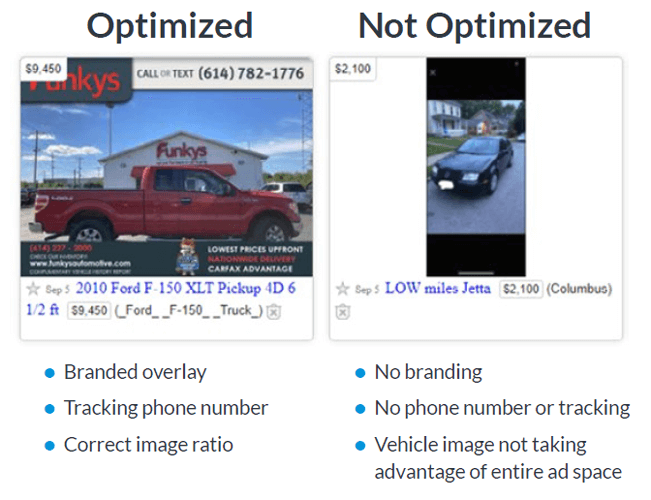 Even though these types of sites have been around since the early days of the Internet, many dealerships still don't take full advantage of their marketing opportunities.
At AutoSweet, we ensure all of the dealerships we work with who use these platforms:
Has a custom logo image overlay on each vehicle to reinforce branding
Includes a large, clear tracking number that drives and measures additional phone calls
Ads are SMS enabled so that consumers can reach you the way they want
Record phone calls and messages through each app in a centralized location for tracking and to use as a sales training and coaching tool
Finally, we make sure each of these sites is driving real website traffic through trackable shortlinks to the dealer's vehicle description pages (VDPs)
Classified ads are a great way to target prospects at the middle and bottom of the marketing funnel.
Several dealerships we work with have had great success in particular with Facebook's On-Facebook Destination for Automotive Inventory Ads. These ads promote vehicle listings inside of Facebook Marketplace, drive leads, and potentially steal sales from the competition!
Managed Chat Platforms
If your sales team struggles to keep up with leads promptly, or if you just want assistance setting up appointments at your dealership, managed chat platforms are a great option.
AutoSweet works to provide our dealerships with all US-based customer engagement experts that average an 80% chat-to-lead conversion and provide dealerships with preset appointments.
This is a great way for dealerships with a small sales team to scale and improve conversion rates for prospects inside the purchase phase.
Email Marketing
Once you generate leads from other ad platforms, automotive email marketing is a great way to stay top-of-mind.
It's also a great way to conquest and win new customers. AutoSweet works with many dealerships to target in-market customers in their area and send them direct emails that advertise current inventory and specials.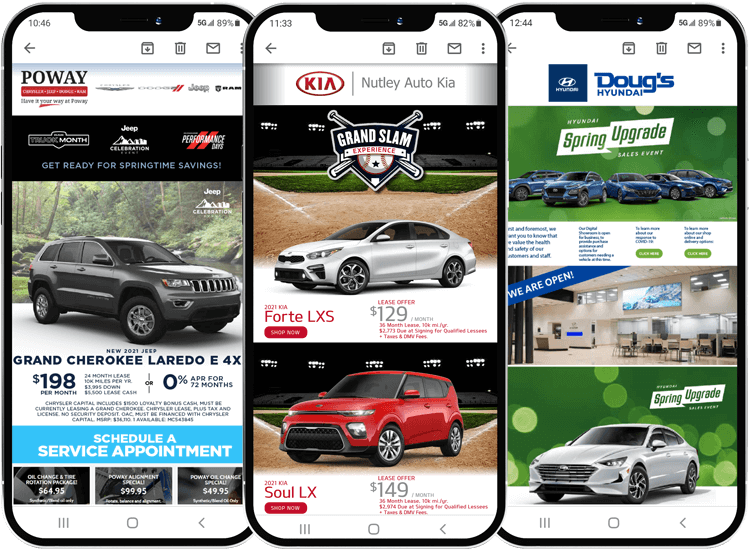 Many dealerships also use email marketing as an opportunity to create customers for life with loyalty campaigns that:
Get customers to "trade-in and trade-up" a previously purchased vehicle
Buy a new vehicle for other immediate family members
Increase routine service and maintenance and previously purchased vehicles
How to Create Great Ads
Now that you know which ad platforms work best for dealerships, you may be thinking…how do you get started with creating great ads?
At the highest level, AutoSweet recommends this ad strategy to most dealerships:
Create ads that use real, engaging photos of your current inventory
Generate more traffic to your website and build brand awareness for your dealership
Once your dealership site has a consistent flow of traffic, retarget with VIN-specific inventory ads that your prospects viewed but didn't take action on yet
Point traffic to your VDPs or use ads that collect lead information right from within the ad
Ad Copy
For inventory ads, in particular, you'll want to add high-quality and accurate information about your inventory. Think about what shoppers are most likely to be interested in. Vehicle price, make, model, should be accurate.
You can work with a partner (like AutoSweet) to help your dealership connect your inventory software provider data to your ads so this is done automatically.
This also ensures you're only advertising in-stock vehicles (with actual photos), which increases conversion rates and provides a better user experience for prospects.
For non-inventory specific ads, ad copy should always be:
Grammatically correct and as short as possible while getting your message across
Attention catching and engaging (try out this free headline analyzer if you're interested in writing better headlines)
Related to the image(s)/video in your ad
Include a single clear, concise, call-to-action. Don't confuse people with multiple calls-to-action on one ad
For more tips on writing ad copy, check out these tips from Facebook.
Images
When it comes to images of your vehicles, the cardinal rule is to take great real photos. People want to see the actual car you have on your lot, not stock images whenever possible.
Here are other factors you should consider when taking photos for your ads:
Amazing photos reveal any imperfections and will remove surprises for buyers before closing time. This honesty will gain your customer's trust
Try to get a clean, professional, background that won't distract from the vehicle
Create an image overlay for your inventory images to reinforce your branding
Aim to take images at a resolution of 960 x 720 or greater

Different ad platforms will have different resolution requirements (i.e. Facebook automotive inventory ads recommend high resolution 1080 x 1080 photos)

Facebook Marketplace recommends 15-20 photos that follow these steps: (1) Front 3/4 angle, (2) Cockpit, (3) Side, (4) back, (5) interior, (6) dents, dings & excessive wear, (7) Engine, (8) Wheels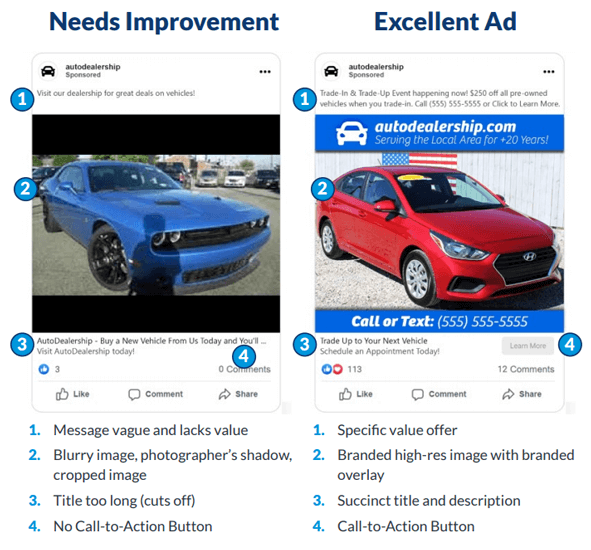 If you're interested in a deep-dive on how to take great photos of your dealership's vehicles, download AutoSweet's Car Dealership Photography Guide.
Call-to-Action
Make it clear what you want people to do with the ads you're showing.
Simply want them to ask if a specific vehicle is available? Make it easy for them to make the request. Many marketing channels allow buyers to request information directly from the platform they're on
Want them to book an appointment for a test drive? Make it easy to schedule a time with a sales rep. Offer alternatives to physical visits. Many dealerships have found success with virtual walkaround appointments via Zoom/Facetime
Do you want them to come to your dealership for an event? Provide them with a save-the-date form and iCal links and reminders via email
Landing Page
Make sure if you're sending someone to your website, it's not the homepage.
This is especially important if the person clicked on an ad for a specific vehicle. You must make sure your ads are linking to the specific VDP to increase conversions.
Optimizing Your Website & Vehicle Description Pages (VDPs) for Buyers
Your dealership's website is the best way to make a good impression on a user. A bad website with hard-to-find information might make car buyers look elsewhere.
With that in mind, make at the most basic level, your website should:
Have accurate hours that are easy to find
Include your address and a link to Google Maps to make it easy for users to find you
Include in-stock inventory with specific vehicle description pages (VDPs) for every vehicle
Make it easy for customers to book appointments and/or include information on how to schedule a test drive
Provide multiple options for getting in touch (online forms, email addresses, phone numbers, texting, online chat). Accommodate your prospects' communication preferences. I.e. Don't try and force them to talk on the phone if they prefer email or texting
Includes tracking numbers and/or has Google events set up so you can properly track and analyze your marketing ROI
From a more technical perspective, you also want to ensure your website:
Loads quickly on both mobile and desktop
Looks good on phones, tablets, and laptops (mobile is quickly taking over as the Internet browser of choice)
Automatically loads and updates inventory from your DMS provider
Includes page titles and meta descriptions on every page (for SEO)
Is encrypted with SSL (this is good for SEO and shows users that your website is secure)
Local SEO & Reputation Management
As alluded to earlier, while a sale is certainly a reason to celebrate, it's not a reason to stop marketing.
Once you make a sale, you want to make sure the customer is happy – if they are, ask them to review you on third-party sites that other potential customers are using to research your dealership. This process can be automated via solutions like AutoSweet's Reputation Management.
If you're an independent dealer, you'll want to continue marketing to these prospects via email. You never know if they have a spouse or child that will need a new car in the near future.
Many of our franchise dealerships also utilize "trade-in and trade-up" emails and offer specials on service and maintenance packages to continue to cross-sell to customers.
How Much Should You Spend on Digital Marketing to Be Successful?
The answer to this question, like many in life, isn't simple. It depends on a variety of factors…
Are you an independent or franchise dealership?
How large is your inventory?
How aggressively do you want to grow?
Do you have an agency or ad specialist helping you manage your ads to ensure budgets aren't being wasted on outdated inventory and ineffective campaigns?
Do you have the sales bandwidth to follow up with multiple leads in a day?
In short, the larger your inventory, the more salespeople, and the quicker you want to scale your business, the larger your budget should be…
At AutoSweet, our most successful independent dealerships spend around $1,500 a month on digital advertising and focus on inventory marketing ad channels like Facebook, Instagram, Google, Craigslist, and OfferUp.
Meanwhile, small-medium franchises spend around $2,500 a month on online advertising for inventory marketing, and an additional $2,000-3,300 a month on email marketing.
If a dealership doesn't have an internal IT department, they may also work with a website partner for anywhere from $100-$500 a month to manage their website and ensure inventory is always up-to-date.
Summarizing it All
Ok, so now that you've gotten through this entire post you may be wondering, "This whole digital marketing thing is a lot… How do I get started?"
First off, feel free to download this post in eBook format (it includes even more tips and examples on how to get started!) Plus, you can easily forward it along to your colleagues.

And, if you're still feeling overwhelmed, AutoSweet's 100% US-based digital marketing consultants are always happy to network with dealerships and provide complimentary strategy sessions.
Reach out to us at 614-908-2818, [email protected], or contact us online.