Google Ads has evolved considerably since launching in 2000, and updates to the platform are continuing to happen all the time…
Because Google Ads is constantly changing, many useful features go unnoticed that could be game-changers for your car dealership's marketing success.
Learn exactly what these features are and how you can start getting more low-funnel leads from your dealership's Google Ads strategy.
1- Google Dynamic Search Ads that Link to Your VDPs
Why wouldn't you want your dealership to show up at the top of Google's search results when someone in your region searches for a vehicle you have in stock?
With Google Dynamic Search Ads, this is very possible and can be automated so that you're always showing in-stock inventory and not advertising for vehicles already sold.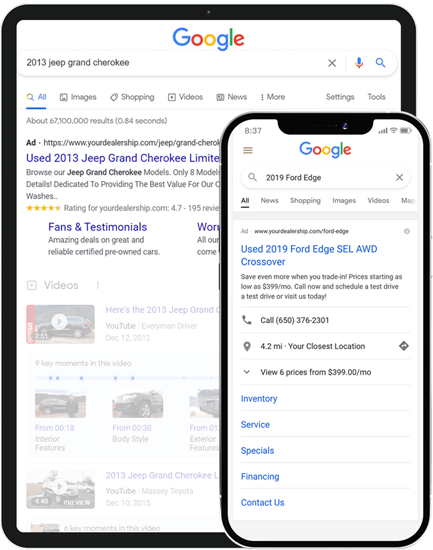 For example, if someone were to search "2013 Jeep Wrangler" on Google and you have this vehicle ready to sell on your lot, wouldn't it be amazing to have an ad for your vehicle that links to its VDP show up at the top of Google for searchers in your geographic area?
This is easily the lowest-hanging fruit your dealership could incorporate into your Google Ads strategy.
It does take some technical expertise to implement this type of strategy. But, AutoSweet is always here to help! Schedule a free strategy session with our team to learn more about how it works.
2 – Franchises Can Create Custom Audience Based on Visits to Manufacturer Websites or Competitor Websites
Before visiting a dealership in person, many car shoppers check out the newest models they're interested in at the manufacturer's website.
For instance, if someone were interested in the latest Honda Civic model, they'd probably check out Honda.com and explore the details there.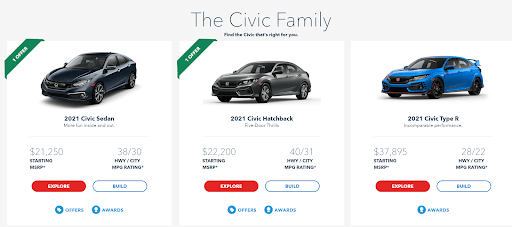 Now, if you happen to be a Honda franchise owner, you can take advantage of this behavior pattern by creating a new Custom Audience in Google's Audience Manager that targets visitors who visit websites similar to Honda.com.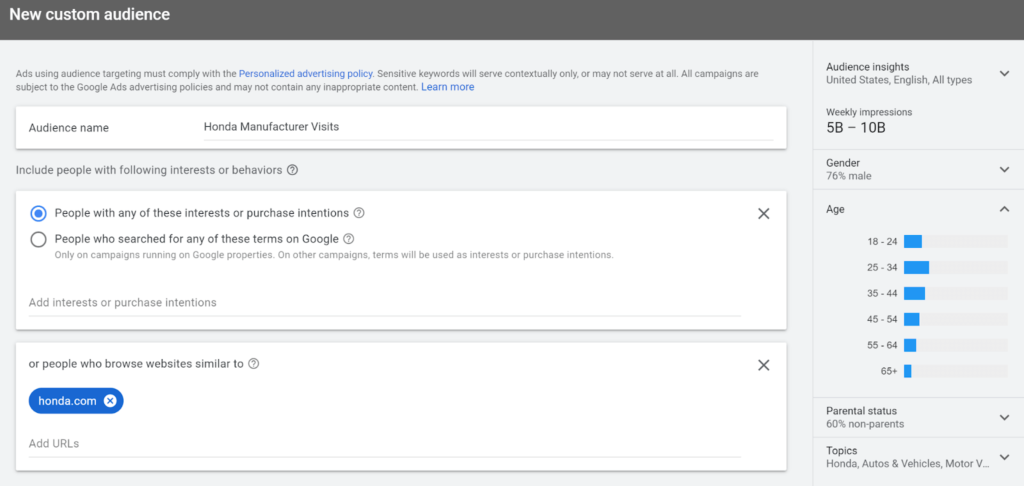 Once you finish defining the audience, Google will give you an idea of how many searchers match these filters. In this case, it's 5-10 billion in the entire United States. (Note: You'll probably want to narrow your audience down to your dealership's selling area).
You can then apply this audience to your existing campaigns and/or AdGroups. Once the audience is added the following options are available:
Show ads only to members of the audience (Target Method)
Adjust bid amount higher or lower when ads are served to members of the audience (Observational Method)
An easy way to get started with this strategy is to add an audience to an existing campaign (with the observation setting) and use this information to analyze if members of that campaign tend to click or convert more than a more generic audience.
If they do, then you may want to target this audience in the future or adjust your bids for the audience accordingly.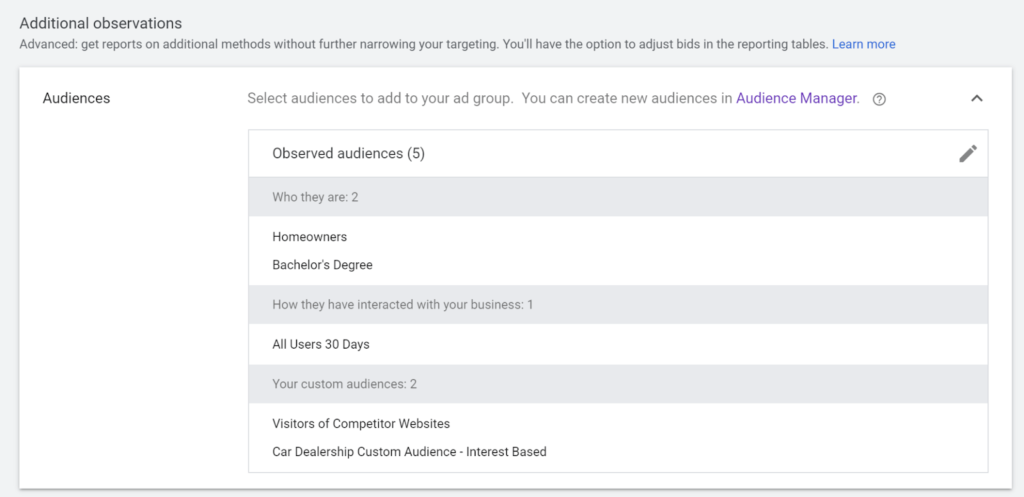 This strategy can be applied to any franchise brand (Hyundai, Ford, Toyota, etc.). You can also add additional observations to help determine which demographics and characteristics are more likely to convert.
For example, you could include audiences of various educational backgrounds, homeowners, and past visitors to your website. The possibilities inside Google Ads are nearly endless.
3 – Create Custom Audience Based on Purchase Intention (Franchise & Independent)
Another powerful feature of Google Ads is the ability to create audiences based on Google's predicted purchase intention of online shoppers.
For example, independent dealers can target searchers who are looking for certified pre-owned vehicles.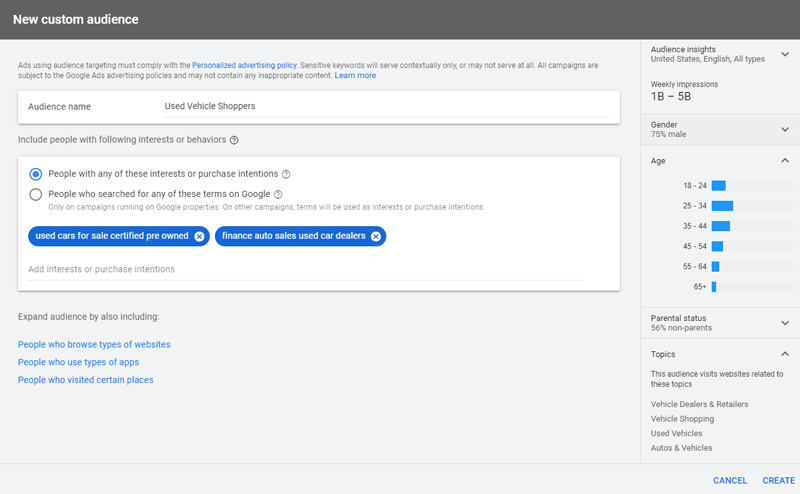 Once again, you can simply set these audiences to observation before full-on targeting them to see how they perform compared to your overall campaign results.
This is a great way to dig deeper and generate new interest in your dealership, especially when you use display ads that will follow audiences around the more than 2 billion websites on the Google Display Network.
4 – Customize Where Your Displays Ads Show Up with Placements
The Google Display Network comprises more than 2 billion websites. Typically, your ads are placed automatically using Google's machine learning algorithms.
But, Google does allow you to target specific websites, YouTube channels & videos, and apps that are a part of this network. You can also observe where your ads are currently displayed and use this information to exclude or bid higher on placements.
Many popular car shopping websites are part of the display network, including edmunds.com, cars.com, cargurus.com, and carsdirect.com (just to name a few).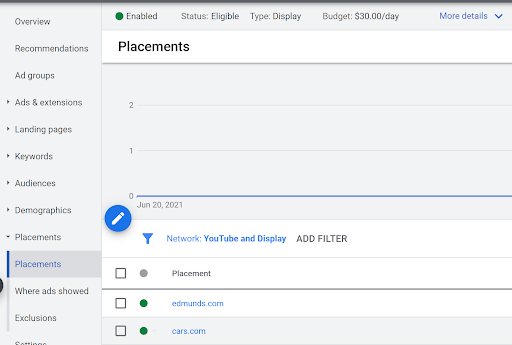 Consider targeting these websites with a simple display campaign to shoppers in your geographic area. You can customize your placements by editing or creating a new display campaign.
Once you're inside the display campaign, you can access "Placements" on the side navigation bar. There are three nested links under this section.
Placements – here you can add custom placements to your campaign or ad group
Where ads showed – this is a list of where your ads showed for a given time period
Exclusions – here you can add websites or YouTube channels/videos where you DO NOT want your ads to be displayed
5 – Increase Foot Traffic With Local Campaigns
According to Google, "Local campaigns are the first-ever Google Ads campaign type that is specifically designed to optimize for store visits."
In other words, if you have a goal to drive more customers into your physical showroom, local campaigns may be exactly what you're looking for…
Local campaign ads can run on Google Search, Google Maps, YouTube, your Business Profile, or on the Google Display Network.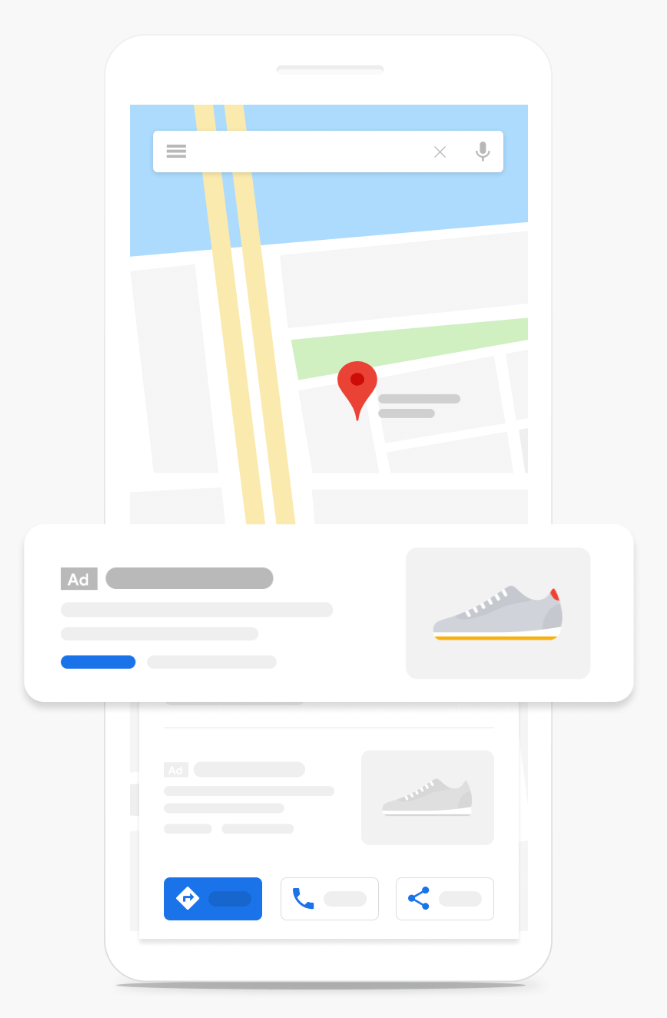 To create a local campaign you'll need to define the dealership location (or locations) you'd like to highlight. The best way to do this is by adding these locations to your Google My Business account and linking this account to your Google Ads account.
According to Google, Local campaign also utilizes new ad inventory like Google Maps promoted pins and local results on Search.
6 – Show Branding Videos to Local Shoppers on YouTube
Does your dealership invest in video marketing?
If you're already spending money on local TV spots, why not also repurpose these videos for a different audience on YouTube and participating Google partners (and for a much lower cost).
Google Ads will allow you to target only people in your selling region. This is very similar to how local TV ads work, except it's online! And, you can use the targeting methods mentioned earlier in the article to narrow your audience further for even better results.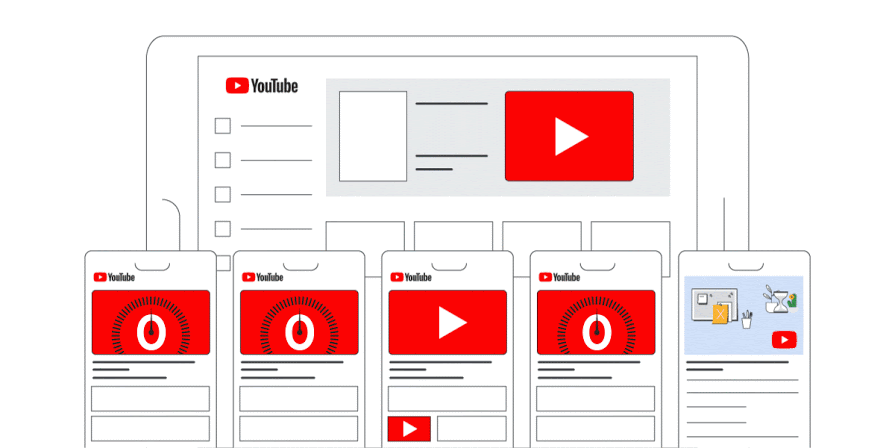 There are various types of video ads to choose from:
Skippable in-stream ads – play before, during, or after other videos. Viewers can skip after 5-seconds.
Non-skippable in-stream ads – must be 15 seconds or less, but cannot be skipped
Bumper ads – 6 seconds or less and can't be skipped
Video discovery ads – require a YouTube channel or video and are shown when someone is on YouTube and sees a sponsored thumbnail for your video
Outstream ads – Show only on Google video partners, and only on mobile and tablet
You can learn more about YouTube Video ads here, or by scheduling a free Google Ads strategy session with an AutoSweet digital marketing consultant.
Need Help with Google Ads?
Properly setting up your Google Ads account can get complicated fast. Working with a Google Partner like AutoSweet can help ensure your campaigns are always running effectively and efficiently.
If you're interested in learning more about the Google Automotive Ads plan that AutoSweet recommends for your dealership, fill out this quick assessment so we can customize a strategy for your dealership.
Once you complete this assessment (takes less than a minute) we'll send you a FREE custom Google Ads strategy to help you get started.
If you're interested in learning more about Google Ads or need help with your overall dealership digital marketing strategy, reach out to us at (614) 908-2818, [email protected].